For more than a decade, UpCity's mission has been—and continues to be—to help businesses find B2B service providers they can trust. The UpCity Recommendability Rating was developed to determine a service provider's credibility and recommendability, giving UpCity the confidence to recommend them to the more than 2 million businesses that visit their site.
Each year, UpCity analyzes and scores more than 70,000 service providers based on their UpCity Recommendability Rating and acknowledges the top national and local providers with an UpCity Excellence Award. The results are in, and we won!
We are proud to announce that the NG Production Films team has been recognized as one of the top B2B service providers of 2022 in the Orlando area by UpCity!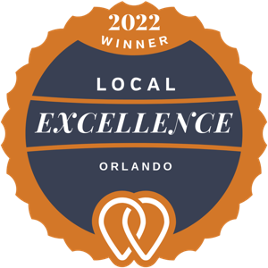 Joe Banks, SVP of Engineering at UpCity, had this to say about NG Production Films:
"NG Production Films puts in maximum effort to maintain relationships with all their clients, no matter how big or small their project is. This dedication and incredible work ethic earned them this 2022 Local Excellence Award. Congratulations!"
—Joe Banks, SVP Engineering, UpCity
This recognition has been driven in large part by our 5-star review rating on UpCity. Here are a few of our favorite pieces of feedback we've received from our incredible customers:
"The professionalism and creativity of NG productions made producing a video with them a wonderful experience. They always went the extra mile without being asked. I am proud to say that the video they produced was award-winning (a Telly Award)." – Austin E., October 2019
"The team at NG Production Films is amazing. They have been producing my National TV show for over 5 years and every time I walk into their studio each week they really know how to keep a smile on me." – Faye H., August 2018
We'd like to sincerely thank each one of our amazing customers who have chosen our team throughout the years. We love working with new people and getting to help tell incredible new stories, and your support means the world.
Learn more about the UpCity Excellence Awards.