We are ecstatic to announce that the NG Production Films team has been recognized as one of the top B2B service providers of 2023 in Orlando by UpCity!
For more than a decade, UpCity's mission has been—and continues to be—to help businesses find B2B service providers they can trust. Each year, UpCity analyzes and scores more than 50,000 service providers based on their UpCity Recommendability Rating and acknowledges the top national and local providers with an UpCity Excellence Award. The results are in, and we won!
NG Production Films is here to serve your video and television production needs, with on-time and on-budget delivery. We're an award-winning team and have worked on thousands of videos in more than 100 specialties and industries over the course of 15+ years. Originally founded to work with faith-based organizations, we take great pride in building community and strengthening relationships through quality work and open, honest communication.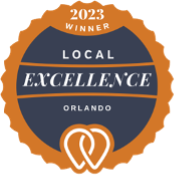 This recognition has been driven in large part by our 5.0-star review rating on UpCity. Here are a few of the glowing reviews we've received from our incredible customers:
"The professionalism and creativity of NG Productions made producing a video with them a wonderful experience. They always went the extra mile without being asked. I am proud to say that the video they produced was award-winning (a Telly Award). I would be happy to discuss my experience with anyone interested." —Austin Emma, April 2019
"I would say that overall they are the best, hands down. I loved every aspect so I can not say that I didn't like anything. This is one of the most professional production teams I have ever worked with. I would refer them to anyone." —Anthony Simmons, February 2019
It's a great honor to be recognized for this award. We strive to deliver high-quality videos and help grow our partners' brands by providing great customer service with responsive collaboration. We do this by maintaining a visionary, faith-based culture because we believe in positively impacting communities.
About the UpCity Recommendability Rating
The UpCity Recommendability Rating was developed to determine a service provider's credibility and trustworthiness. This rating helps give UpCity the confidence to recommend a service provider to the more than two million businesses that visit our marketplace, which is powered by over 35,000 verified reviews. Read more about the UpCity Excellence Award here.