Video is one of the most powerful tools in digital marketing. Video search engine optimization (SEO) is an engaging and effective way to reach your target audience by ensuring that they appear higher up in search engine results, making it easier for your intended audience to find the information they are looking for.
What is Video SEO?
Video SEO is the process of optimizing your videos so that they show up at the top of search engine results. This is done using keywords and tags to make your video more visible to the search engine's algorithms. The better your video is optimized, the more likely it will appear in front of your desired audience.
Now, it's essential to remember that video SEO differs from your traditional SEO strategy. For instance, you can't just stuff your video with related keywords and tags and hope to rank (not that you should do that in your content, but you get the point).
Yes, video SEO uses keywords and tags relevant to the video and your audience's search intent. However, the way you implement these elements is very different. With traditional SEO, you can use your identified keywords in headers, body text, and tags to get your content ranking organically.
Video SEO, on the other hand, has to use these keywords a bit more strategically. Videos aren't written text, so you must rely on other elements to make your video search engine friendly.
To make your video searchable, you have to include your keywords in the following backend areas:
Video Title: This is the first element your audience will see when searching for videos. It's also the first thing that Google will see when indexing your video. Ensure you include the keywords you're trying to rank for in the title.
Video Description: Your video's second most important element is the description field. This text appears under your video thumbnail on YouTube and Google. This text will is crawled by search engines and should contain your keywords.
Video Tags: Your video tags should be keyword-rich. Include your primary keywords in your tags, as well as relevant secondary keywords.
Thumbnail Meta Information: Your thumbnail is an SEO-rich element that needs to be optimized. You can name it using a relevant keyword, add a meta description of the image, and alternative text and tags.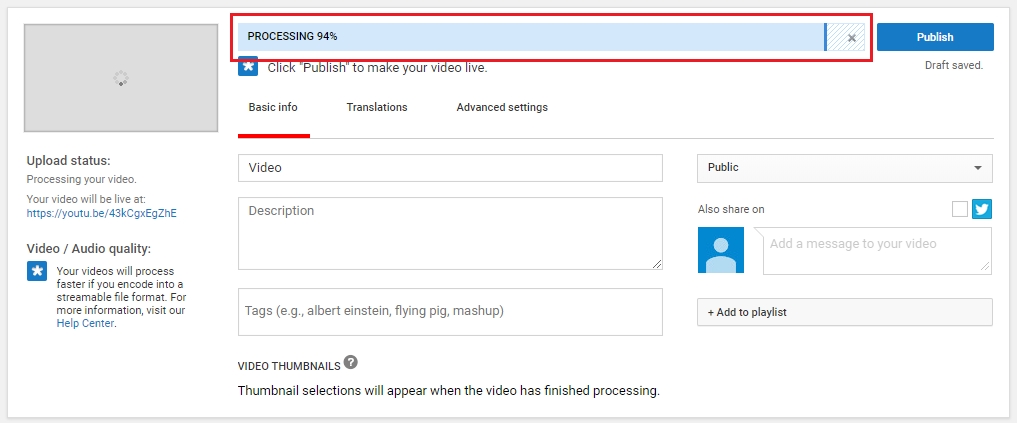 Source: Parkbench
How to Use Video SEO
Video SEO is crucial for video marketers wanting to increase their reach and gain more video visibility. So, how can video SEO help you do just that?
Getting Your Videos Indexed
Google and YouTube are two of the world's most significant search engines, and they rely heavily on video SEO to get videos indexed. By properly optimizing the different components of a video, you'll increase the chances of it being indexed and ranked. That's because the search engines will be able to properly understand what the video is about and place it in the right search results.
Improving Your Video's Rankings
Once Google has indexed a video, it will be eligible to rank for the keywords you've optimized it for. If you've done your keyword research and implemented them appropriately, search engines will start to rank your video content based on relevance and quality.
How well does the video answer the question asked by searchers?
How well does the video content itself relate to the search query?
How reliable is the poster?
These are all things that will influence the ranking of your video. Again, because the crawl bots cannot see the video's visual content, they will rely heavily on the textual information you've input to determine the relevancy, quality, and reliability of the information in the video.
4 Video SEO Tips to Improve Your Results
Video SEO is an integral part of modern marketing. As more and more people turn to video for their news and entertainment, brands need to leverage this powerful medium to reach their audiences. But optimizing your videos for search engines isn't always easy. Here are four tips to get you started on the path to better video SEO results.
1. Choose the Right Hosting Platform
Believe it or not, where you choose to host your video can significantly impact your video's search engine results. That's because not all hosting platforms are created equal. While some platforms, such as YouTube or Vimeo, can give you a lot of exposure, the traffic you'll receive from them isn't necessarily translated to your website. Instead, it's directed to those hosting platforms, which can result in you getting a lot of views, but fewer conversions.
However, that doesn't mean you shouldn't host your video on these sites. It means you must make the most of your presence on those platforms and encourage viewers to click through to your website.
2. Create an Easily Digestible Video Transcript
One of the best ways to help your videos rank is to include a video transcript below your video. Again, this will depend on where the video is hosted, but in most cases, it can be as simple as typing out the transcript in the video description or embedding the video into your website and adding the transcript there.
This allows you to optimize your content more traditionally, which helps you get the most out of your video content and reach more viewers.
3. Pick an Engaging Thumbnail
Your thumbnail image plays a bigger role in helping your video rank well in search engine results than you might think. When an image is properly optimized, it can play a big role in increasing your content in the search results.
Take recipe blogs, for example. When you look up a recipe online, you're often met with a thumbnail of the picture from the recipe, with a link to the recipe page. Why? Because that thumbnail image is designed to entice you to click on the link to the recipe page. Once you're on the page, the video on making the recipe comes into play.
This means that not only do you want a high-quality thumbnail, but you also want to optimize it for search engines. Use those focus keywords to tell the search engines what this image is portraying so that they can index it properly and rank it for the right keywords.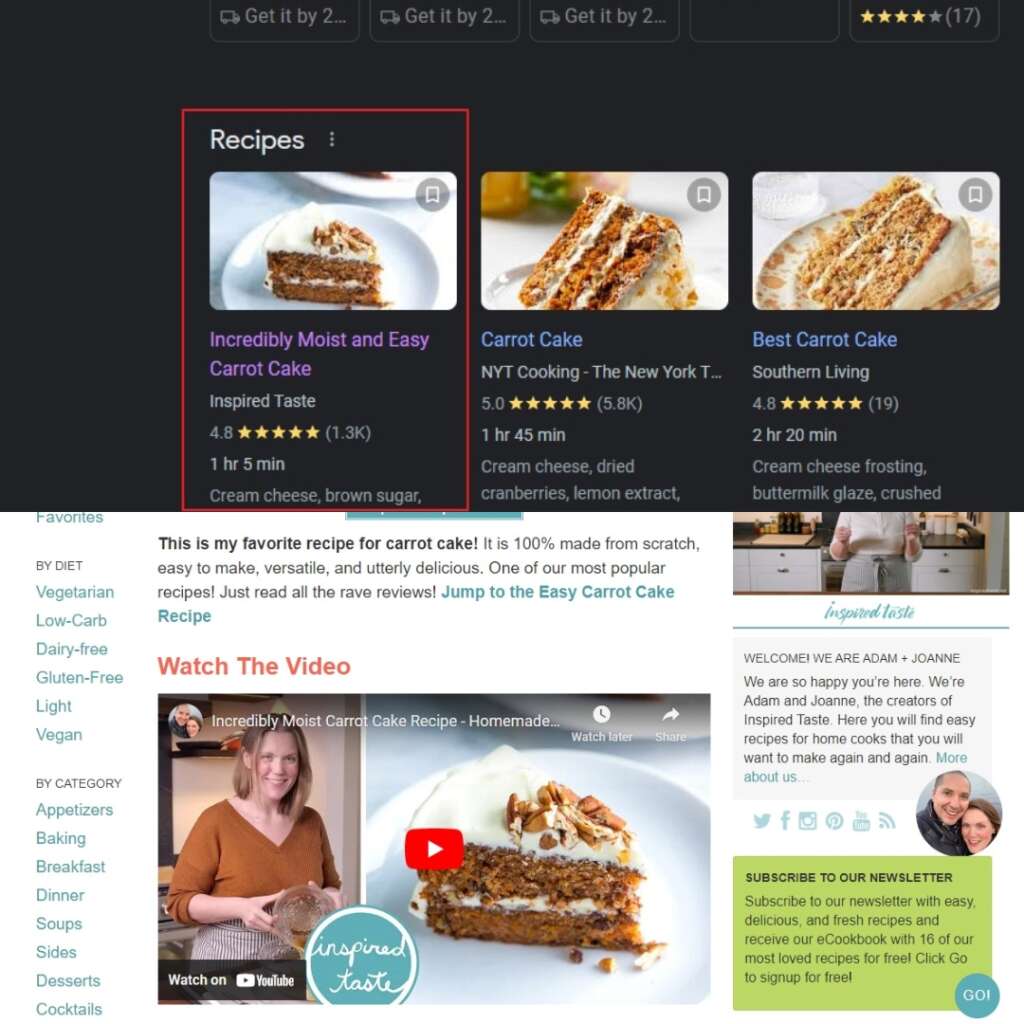 Source: Inspired Taste
4. Don't Use the Same Video Across Your Site
Using a video more than once on your website can have an adverse effect on your video SEO results. This is because search engines consider it duplicate content which can negatively impact rankings. To maximize your video SEO, it's best to use each video only once or repurpose parts of your video content for different videos to ensure it has unique content. Additionally, use different titles, descriptions, and meta tags to further differentiate between each video.
Pairing Video SEO with the Best Orlando Video Production Help
The combination of video SEO and good video production help from a professional Orlando video production company can be a powerful marketing tool. When done correctly, your videos can be seen by more viewers, drive more traffic to your website, and help improve sales and conversions. However, it's important to note that video SEO is a long-term strategy and will take time to see results. That's why it's essential to have patience and remain consistent with your video SEO efforts.
Our Orlando video production company, NG Production Films, can communicate effectively and efficiently to produce high-quality video production. We have over a decade of experience in producing the next video production project for your organization. Call NG Production Films today for a free no-obligation consultation at 407-233-3236 or fill out our contact form for a prompt reply.